Early Monday morning, just when I felt I needed inspiration, I got a text message from my training partner, partner are you up? I am just at Tito Rommie's house chatting with him and Nino, text me when you are ready to train.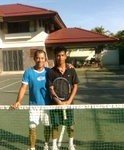 I suddenly was no longer sleepy. I texted him right back and said, pick me up. I quickly dressed, grabbed yesterday's newspaper that had Nino's picture on it, my sign pen and my new flip. I wanted to congratulate a champion and get his autograph for my daughters who both play tennis.
And that's how I met 16 year old, Francis Casey Alcantara. He looked like any other high school kid to be honest, except that he happened to be the 2009 Australian Open Junior Boys Doubles Champion – – the first Filipino to win a Championship in a Grand Slam Tennis Tournament.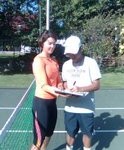 What makes a champ? Is it genes and talent? Hours of training? Discipline? Commitment? Support? I think its all of the above.
Ask any coach and they will tell you they've seen lots of talents come and go. But without commitment and training, the athlete won't get that far.
Rommie Chan, one of Philippine tennis long time sincere supporters, relates how he spotted this kid many years ago. He says he saw potential, but from experience he knew that it required major commitment and hours of training for this boy to move up.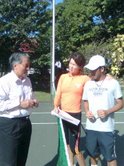 When Nino was 13, Rommie Chan asked him how serious he was, desedido ka ba na ituloy-tuloy ito? Imagine at the tender age of 13, when most kids his age are just worrying about what to wear the next day, he was being asked to decide about his future.
And at 13, this young boy made a choice that he would forego normal things teen-agers do. He would practice every day after school and do whatever it took to succeed.
And this is where his mentors, supporters and coaches came in. Because Nino wanted to stay in school, Rommie Chan had to send his coaches to train him in his home town in Cagayan de Oro. During the summers and school breaks he came to Manila to train. His supporters funded his travels around the world so he could compete and hone his skills. Today, he is a high school senior in Xavier University, the only juniors player in the world's top 30 junior tennis player who is still in school.
A few days ago he made history. He became the first every Filipino to win a grand slam tennis tournament (junior boys doubles).
But it doesn't stop there. Being a junior's champ is not enough for him and for all the people who saw him get this far. He dreams to compete on the center court of the grand slam tournaments, where the big boys play. And once again this teenager, at 16, has committed to put in long hours and do whatever it takes to get him to the next level.
What spirit this boy has – a Philippine icon at the age of 16. To honor him, I filed and sponsored Senate Resolution no. 860 commending him for his hard work and accomplishments.
I salute you Nino, and all those who made this happen " your parents (his dad sadly passed away a few years ago), your mentors and coaches.
Galingan mo pa, maraming naniniwala at humahanga sa iyo.