We found ourselves in Desaru, Malaysia when the 70.3 Ironman Putrajaya was suddenly postponed. We had trained for months and were ready to race. Ani de Leon instantly found another race, just 1 week after the original race we  trained for. It was called the  Desaru Long Distance Triathlon (2k swim-90k bike-21k run).
Our small Philippine contingent consisted of National tri-champ Ani de Leon, Phil team triathlete and now Coach Peter Gonzalez,  my training partner Joey Torres and me. Ani's boyfriend Patrice also joined us. We flew into Singapore and caught a 30 minute ferry to Malaysia.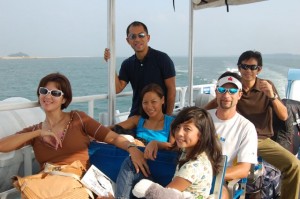 None of us had ever been there. The roads were beautiful, perfect for biking.  Unfortunately, the hotel we stayed in was not as nice as the roads. It was run down, there were leaking pipes in the bathroom, and there was hardly any food in the restaurant.  We had rice and eggs every meal. Breakfast buffet was..all you can eat rice and eggs. Buti na lang girl scout ako. I had gone food shopping in Singapore and bought fruits and yogurt and some bread.
On Friday morning, we got on our bikes in search of food. We biked about 25km til we found heaven – a Petronas station with a store. We loaded our back packs (I loaded Joey's since I did not have one) with instant noodles, drinks and chocolate bars.
Race morning breakfast was  boiled water in the coffee pot and voila..instant noodles and egg.   We biked to the Desaru Golden Beach Resort where the race would start.  Nadine, my daughter and  Che would be our water girls and cheering squad rolled into one.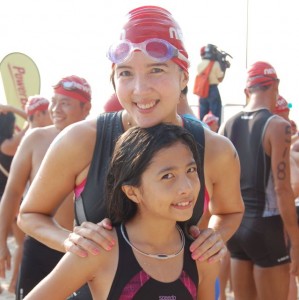 The swim turned out to be a mini-roller coaster. I felt I was moving up and down,  not forward.  Thankfully, I made it and transitioned into the bike segment. I loved that bike course! The roads were smooth and wide,  rolling hills without too many turns.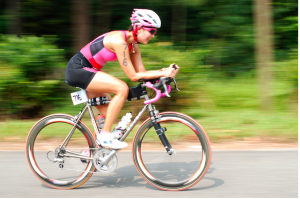 Soon enough, I  was on to the last segment – the run.It would take me about two hours. Course was hilly with one killer hill where I found most people walking. I didn't walk it, but I could feel the strain on my calves going up that hill. We passed the Desaru Golden Beach Club a couple of times.This was the best part. Spectators and supporters waited there, cheering and handing out refreshments.  Nadine and Che handed us water, energy bars and whatever they had.
Halfway through the run, I was running towards the crowd of people,  and I spot Nadine holding out a banana. She shouts," Mommy, mommy, banana?" As I pass her, I shout back, "Later, later, after the turn around."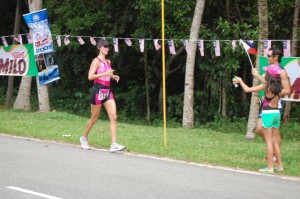 Throughout that turn-around I dream of that banana. All I have had for the last 4:30 hours is water, some energy drink and gel. 4k later I am back. I can practically taste the banana. I imagine its sweet taste, the potassium and whatever other nutrients a  banana has flowing thru my veins and nourishing my body to give me 1 more hour worth of strength and speed.
As I approached Nadine, I shouted, "Banana! Banana!"
My daughter replies, "Sorry mommy, its gone."
I said, "What?! Why? What happened?"
 "The monkey ate your banana, mommy."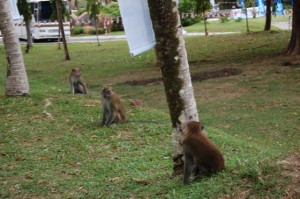 What can I say? In some triathlon races, you look out for cars,  in others you look out for potholes on the road. In Desaru, you look out for monkeys…and your banana.
I took 6th place in the age group 35 and up. Ani took 5th place in her age-group and Peter Gonzalez took 2nd. Not bad for our small Philippine contingent. We dedicate our race to President Cory Aquino.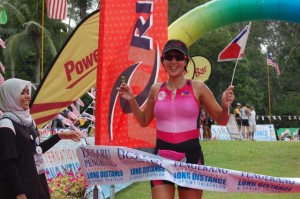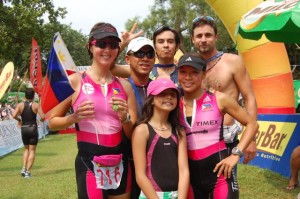 Like many other women, I'm a trimom. I had promised Nadine that after my race, I was all hers. She wanted to go swimming and show me her dive. So we swam in the pool, and then headed to the beach to catch the waves.  Then we we went back to our hotel to pack-up and eat.
What was our post-race meal?… but of course more noodles and eggs.