On July 5, 2009, I woke up to the beautiful Cebu City lights. It was 4:15 am. That was my wake-up call to get me to the Milo 21k starting line around 5 am. But I jump ahead of my story.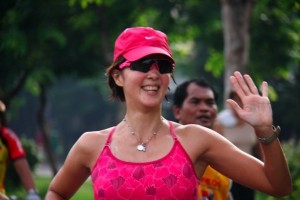 This is my usually whirlwind 24 hour trip out of Manila. There were two fun things about this trip. One is my daughter Nadine was traveling with me. And two, there was a run the following morning
I had three meetings one after another soon as I arrived in Cebu. I decided my first stop would be a fueling station.. as in deadly delicious calories to satisfy my craving.. aka Leona's Bake shop.
My friend Jane-jane, owner of Leona's was kind enough to offer to send over an assortment of goodies to keep me energized for the day but I told her no way! I needed to absorb the good vibes that come out of a bake shop – all that goodness, sweetness and fresh scent of baked bread certainly must stimulate the production of endorphins and the feeling of happiness right?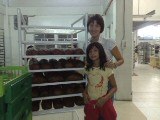 So my daughter Nadine and I went there and like kids, well she is one, I'm not, pointed, whispered and stared  at the cakes beckoning at us. To distract me from eating everything on site, I asked for a tour of the facilities which I knew would be an educational experience for both Nadine and me,. We happen to be baking enthusiasts.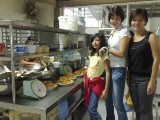 After that 20 minute stop-over, we went straight to the hotel. I settled in my daughter with her books and went to my meeting in the lobby. I met with the women of Inner Wheel Club. Our objective was to discuss a joint project between my Pinay in Action and their group for a school tour on violence against women.  There were also students who attended our meeting.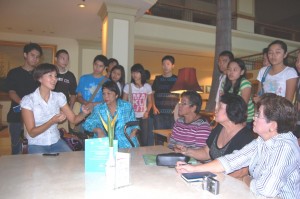 I explained to them that I felt it was important  to focus on the youth so they could spot violence early on, avoid it and protect themselves. After some discussion, we agreed that we would try to make this happen soon.
My next meeting was with the representative of 4L in the region. 4L is the organization of women legislators. They are composed of councilors,  board members, vice-mayors, vice-governors and congresswomen. My objective here was to inform them about my project with the local governments and the barangay health workers (BHW), particularly my BHW Health Wellness Summit.
My last meeting for the day was with members of the Cebu Press. I updated them on my legislative work, including the Food and Drug Administration Act which was awaiting the President's signature, my thoughts on the automation,  women empowerment, reproductive health and other issues of the day.
That ended my official business for the day. 
Next morning started, not bright and early, but dark and early. We were up at 4:15, eating breakfast at 4:30 and out of the hotel before 5 am.
This was my 2nd Milo 21k in Cebu. It's a huge race and the course takes us thru the city. Not what I would call scenic, as runners really do prefer the country side for a run. But I doubt if there is any countryside in the heart of Cebu city.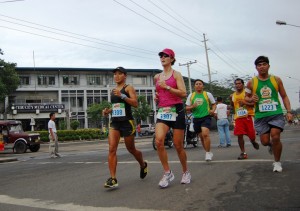 Being familiar with the course is a plus. I knew there would be no deadly climbs, mostly flats and a few gradual climbs. Thankfully, it was not hot either.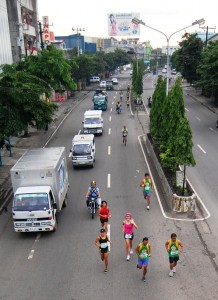 I ran steady. Did not plan on  pushing too hard. This was a training run for me and Ani. We are doing a 70.3 ironman soon and we needed a long run. We were around 11th and 12th place at about 8k. We picked up the pace a bit and by the end of the run, I finished 6th in 2 hours flat. Ani of course, could have done much better, but like I said it was a training run and she just ran at my pace.
I need to commend the security that was assigned to me. PO1 Delailah Cayacap Samson was amazing. She is only the 2nd security assigned to me during an out-of-town race that has been able to stick with me.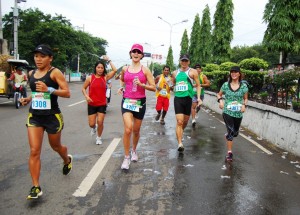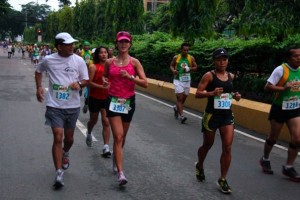 The rest of the day was spent relaxing in Shangri-la Mactan with our friends. My daughter Nadine politely asked "can we go to the pool now" over and over while we adults lingered over buffet at Tides. We finally did get to the pool side and stayed there almost 'til sunset.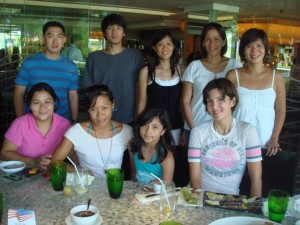 We were back on the plane 27 hours after we landed, two pounds heavier (courtesy of Leona's bake shop), but happy (thanks to Leona's too, productive meetings, a good race and good company).
27 1/2 hours in Cebu. Time well spent.