1 August 2011
Today I walked into a sea of purple in the Senate Session Hall.
By this I mean the Senate Gallery was filled with supporters of the Reproductive Health (RH) bill which I sponsored last June and which Senator Miriam Defensor- Santiago is sponsoring today. I had the chance to briefly chat with the dedicated supporters, headed by former Department of  Social Welfare and Development, and Department Of Health (DOH) Secretary Esperanza Cabral. They were all in good spirits and happy that we were moving forward with the RH bill.
Before Senator Santiago took the floor I had the opportunity to chat with her and we agreed that considering the scope of the RH bill it would be more orderly to divide it into three major topics. Upon her suggestion we agreed on the following subtopics:
Catholic Theology;
Constitutional and International law; and
Socioeconomics.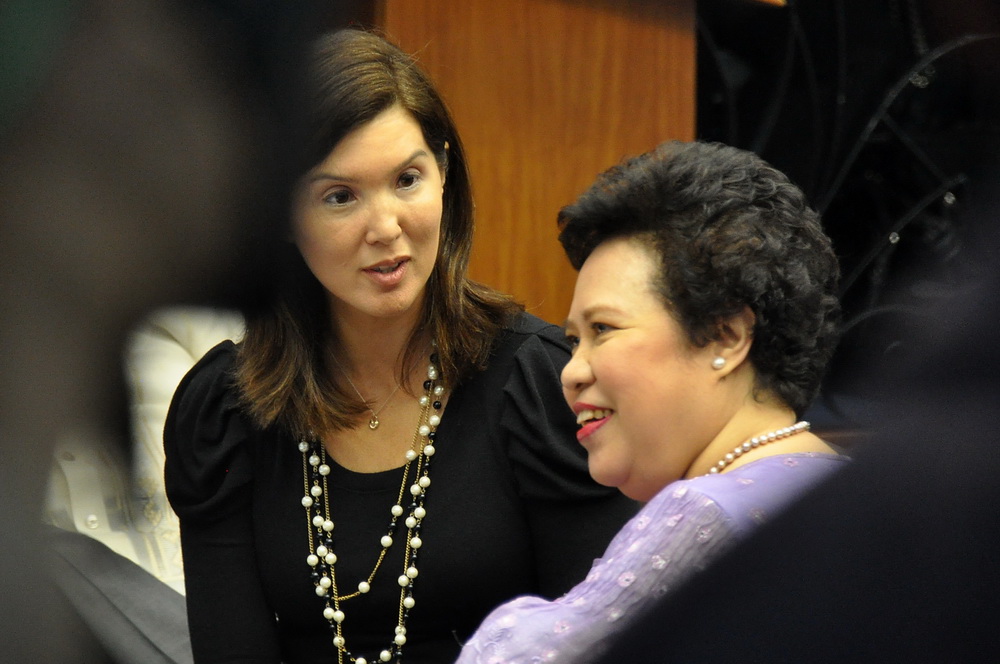 Before session adjourned last month, as Chairperson of the Committee on Health and Demography, I delivered my sponsorship speech on the RH bill (full text of my speech). Now, it was Senator Santiago who was going to deliver her co- sponsorship speech.
What follows is a summary of Part 1 of her sponsorship speech entitled "Primacy of Conscience in Catholic Theology."
Of the 48 Catholic countries profiled by the United Nations Population Fund, only six countries do not have Reproductive Health law. This includes the Philippines.
In our country, the Catholic Church is the only major religion that opposes an RH bill.
Pope Paul 6 issued a Humanae Vitae which condemned the use of artificial methods of contraception, including the pill.
In the Pre-Vatican 2, the typical Catholic accepted the authoritarian structure of the Church "as a dictate of divine revelation." Independence of the individual conscience was kept at a minimum. But in Post-Vatican 2, many Catholics were no longer willing to blindly obey.
The divide between pre- Vatican 2 theology and post- Vatican 2 theology is now evident in the RH debate among Catholic Filipinos.
Today, many Catholics accept that so-called immutable doctrines should be legitimately re-examined.
Interestingly, unknown to many, the majority report of the Special Papal Commission proposed that contraception should no longer be condemned.
The minority report, however,  condemned artificial contraception as evil because it changes an act which is naturally oriented to procreation into an act which is oriented to the mutual benefit of the spouses.
But Pope Paul 6 decided in favor of the minority report.
On the lighter side, Senator Santiago said she cannot imagine that what is expected is that a couple would think purely of baby- making when having sex. In fact, she joked that she doesn't fear death, but life in the hereafter without sex.
But back to the serious matters. The majority report which Pope Paul 6 rejected stated that "in some cases intercourse can be required as a manifestation of self-giving love, XXX while at the same time a new life cannot be received. XXX, it is but a legitimate communication of persons through gestures proper to being composed of body and soul with sexual powers."
Senator Santiago then discussed liberation theology which originated among Latin American theologians and emphasized that humans have a mission in and for the world that includes the struggle on behalf of justice, peace and human rights.
Liberation theology believes that the kingdom of God is partially realized, when social justice and love are advanced in society. When we take a step toward social justice and love, we take one further step toward the final consummation of the kingdom of God.
Senator Santiago submitted that the struggle for an RH bill to protect health and quality of life of the mother and child in the context of unspeakable poverty is part of liberation theology.
In this light, Senator Santiago also submitted that in the Philippines, the Church must take a stand against social injustice.
Senator Santiago stated the first step in abolishing injustice is to recognize that the Church is tied to the unjust system- RH is available to the rich only. Why not to the very poor?
Faith must always be directed towards the changing of the existing social order. We have to participate in the struggle of the poor and the oppressed Filipino mother and child.
Senator Santiago called on the adoption of the project of theological feminism, by searching the tradition for what has contributed to female subjugation. Uncontrolled pregnancies is certainly one of them.
Jesus himself was radically open to woman. Jesus was a revolutionary who accepted women as equal, and rejected any use of God to perpetuate patriarchal or hierarchical relationships
Senator Santiago stated that as legislators and law-abiding citizens, we are prohibited by the Equal Protection Clause of the Constitution from enforcing anti-female prejudice. The RH Act seeks to correct the fallacy of intrinsic female inferiority. Fathers of the Church like St. Augustine saw woman as dominated by the body, in comparison with man, who stood for the predominance of the spirit. We have since discarded that archaic view.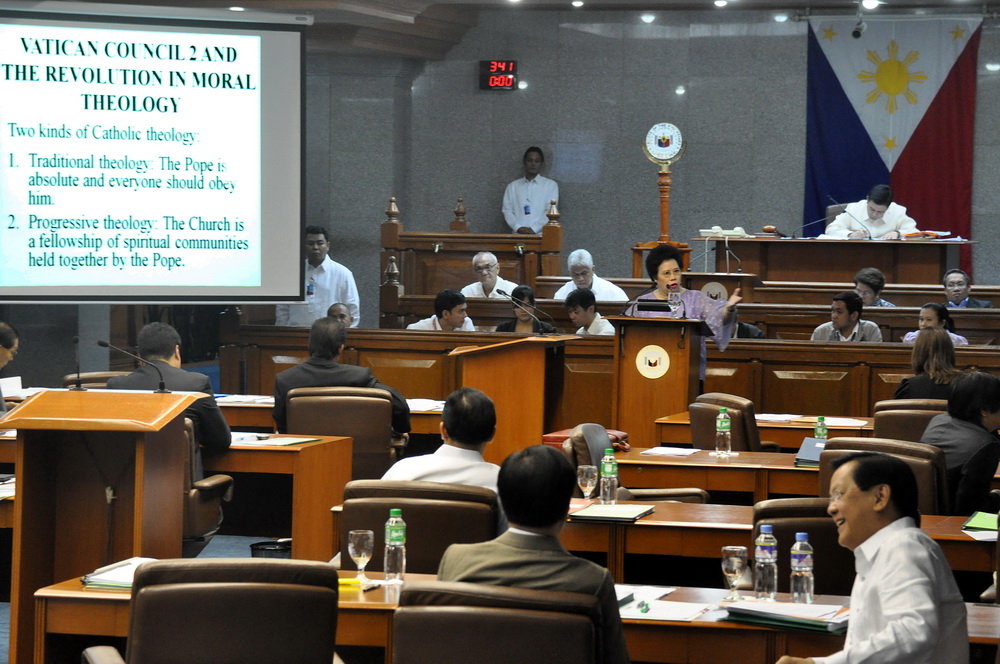 With that Senator Santiago ended the first part of her sponsorship speech. She is ready to take on interpellations on the subject matter tomorrow.
After session ended, I joined the RH supporters who have been present since my Committee on Health commenced its discussion on RH. I thank them for their valuable contributions in crafting this bill.  Among those who came and showed their support were former Rep. Risa Hontiveros, Elizabeth Angsioco of Democratic Socialist Women of the Philippines, Red Tani of Filipino Free Thinkers, Ramon San Pascual of Philippine Legislators' Committee on Population and Development,  Prof. Princess Nemenzo of Woman Health, Prof. Marichi Guevarra and Elizabeth Eviota of Ateneo de Manila University, Fe Manapat of National Anti-Poverty Commission, Dr. Junice Melgar of LIKHAAN Center for Women's Health,  Ben de Leon of the Forum for Family Planning and PopCom, Dr. Ric del Rosario who was formerly  with DOH and Philippine General Hospital, and Bishop Rodrigo Tano of Interfaith Partnership for the Promotion of Responsible Parenthood. Also present to show their support were Heart Evangelista and former Department of Tourism Secretary and beauty queen Gemma Cruz-Araneta.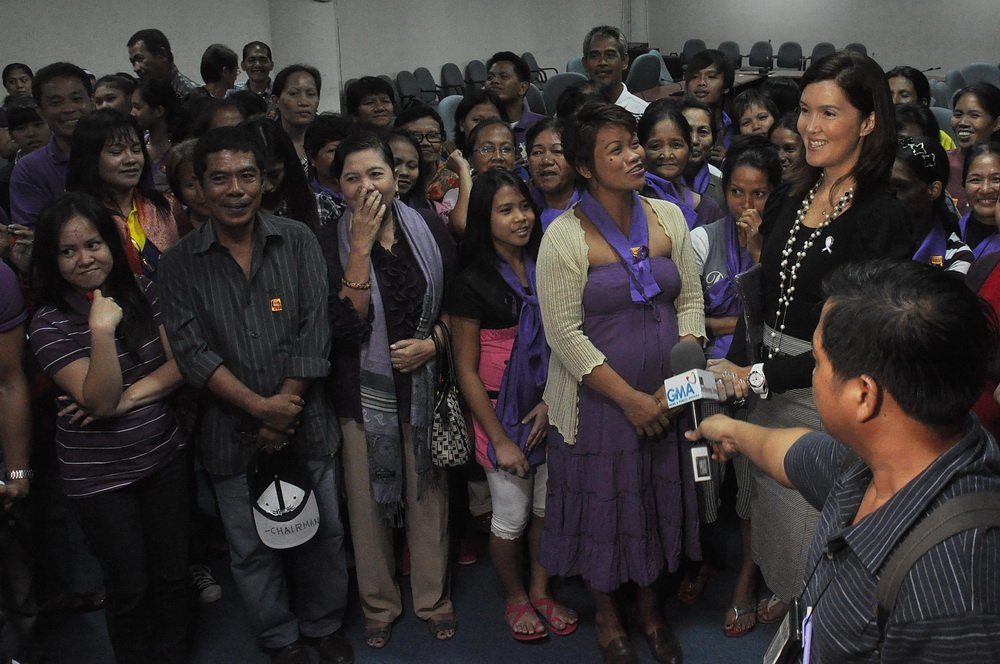 To view the full text of Senator Santiago's co- sponsorship speech, please log on to www.miriam.com.ph