Bike commuters and environmentalists rejoice! Bikes are now allowed on LRT line 1 and line 2.  Foldable bikes that is.
I had the pleasure of traveling from Cubao to Luneta via two modes of eco-friendly transportation – as a bike commuter and on board the LRT. Along with LRTA Administrator Mel Robles, bike enthusiasts and environmentalists, we took  the LRT from Araneta, disembarked in Legarda, unfolded our bikes and biked to Luneta.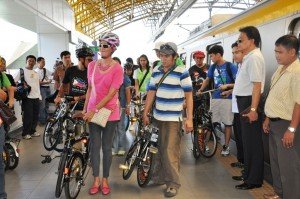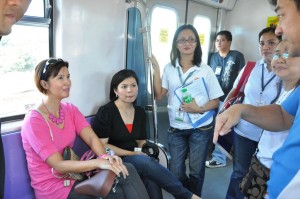 This was at the launch of the LRTA's Bike On Bike Off program (BIKE 02).
The Bike 02 is the first mass transportation/bike friendly program in the country.  It is our first step towards an eco-friendly and healthy mass transportation system.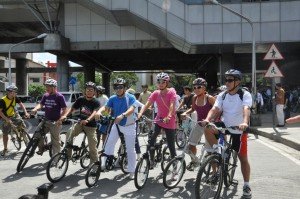 The project seeks to encourage commuters to leave their cars and hop on their bikes to the nearest station and board a train to their destination.
I recognize that there is still much to be done. For now, only foldable bikes can be used. That in itself is a huge limitation since most people own regular bikes. Also, due to limited space, only 4 bikes at a time on the last coach of the train. 
Of course,  we have no bike lanes and let's not even get started on the quality of the air in Metro Manila!
But a journey starts with the first step and I congratulate LRTA and its partners – Firefly Brigade, UP Mts, Padyak and Tiklop for this initiative. Already there are commitments to  follow-up measures. 
Close monitoring of this pilot launch will help us expand this project to make it mroe viable. LRTA Administrator Mel Robles acknowledges the need to build bike racks in all  stations. We also discussed the need to have secured bike racks/parking areas in all parking lots. I commit to continue working on the national budget to include funding for the Clean Air Act and its related projects. 
If there are any lessons to be learned from typhoons Ondoy and Pepeng, it is that the time has come to focus on eco-friendly sustainable programs in urban planning, transportation, energy and everything else that we do.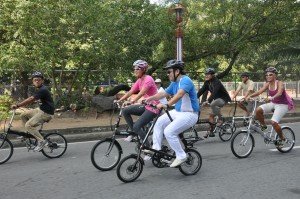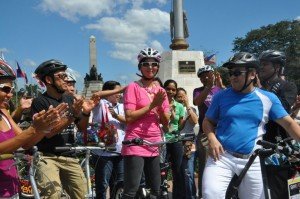 Meanwhile I will continue to dream and plan for  a time where we can commute from the south and north of Metro Manila and all over our country in a seamless inter-connected pollution-free mass transportation and bike friendly system.  
For more information on the Bike 02 project, please read LRTA's Bike Rules.