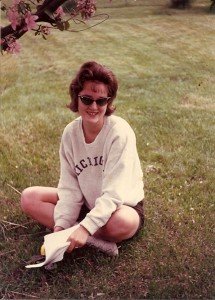 My mom grew up on a farm in Michigan. She met my dad when they were both studying in the University of Michigan. A few years later, she left the only country she knew and migrated to the Philippines, a country with a different culture, lacking in modern facilities that she was accustomed to, not knowing anyone from here except my dad and his parents.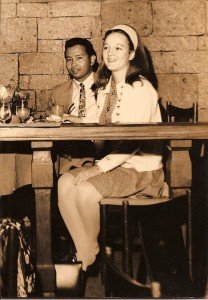 I often wonder what it was like for her, a young 24  year old woman to leave for the unknown.  All she really had was my dad and me.
She was pretty much on her own most of the time. My dad worked long hours as a lawyer. It was just me and my mom most of the day. My life revolved around her.
She had a profound influence on me in my formative years. If I looked at my dad as the omnipotent being (translation: disciplinarian, law enforcer), my mom was omnipresent.
She took me everywhere she went – to her school, to the store, to the market, to her dressmaker and the salon. My childhood is replete  with memories of doing art work, reading and writing on the floor while my mom worked on her lesson plans and prepared her class materials. I don't really remember being away from her.
Her demeanor, her kindness,  the way she talked, all of these things set my standard for dealing with people. If she ever got frustrated or lost her temper, she must have hidden it from me, because I really don't recall any incident.
Looking back, she also set my standards as a working mom. As a preschool teacher, she spent her days either in her school or working on her school projects at home. My mom taught and later owned her own preschool. I was her student in Marymount in Quezon City, then JUSMAG school. Later, she put up her own school Ann Arbor School in Quezon Avenue where I also studied.  A few years later, she opened Ann Arbor Montessori in BF Homes. I spent many summers playing there and enjoying the Montessori materials.
For the first four and half years, I was her only child. Then my brother Alan was born, but I never felt a diminution in her attention or affection. Years later, my brothers Ren and Lino were born and that still did not change anything between my mom and I.
These days, it's my turn to be a working mom.  And my mom? She is still a teacher and the consummate grandmother. She does not run a school anymore, but she devotes a good chunk of her time to my children.
When my first child, Maxie was born, she spent most of her day with my mom, while I worked. My mom would even take her to my office, so I could breastfeed her. Today, she spends a good number of hours a week with my younger daughter Nadine helping her with her school work. When I'm out of the country or just stuck at work, she takes them to the doctor, out for pizza, to  the book store or wherever they ask or need to be taken.
She is also a passionate writer of children's books and to date has written hundreds of books, many of which she have given away to public schools.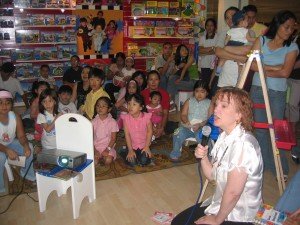 My mom held my hand each day I lived thru my son Gabriel's illness. She was strong, when I was weak. She was optimistic, when I saw no hope. When my dad got sick, she held us together. 
In my work in the Inter-Parliamentary Union, we often discuss issues involving women in the labor force and the challenges women  face balancing their responsibilities as homemakers, caregivers and workers. One of the recommendations is for women to rely on their support system, such as extended families.
How grateful I truly am that I have my mom who has supported me thru the years, as a child and even now.