For those who want to join in on the fun, it's not too late. Just lace up, head out the door and start running.
Amidst the Christmas rush and defending my senate bills on the floor, including the Reproductive Health bill, I launched 12 days of Takbong Gabi, a Twitter based advocacy run where participants  run for a different cause each day wherever they are and whatever time they can.
So, that's me lacing up for Takbong Gabi on Monday morning, before going to the Senate.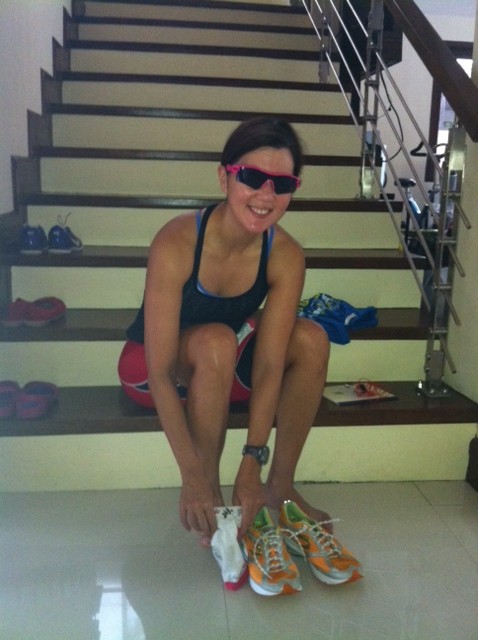 On day 1, we ran for Hepatitis B and liver cancer in memory of my dad, the late Senator "Compaňero" Rene Cayetano.
Hepatitis B is a liver disease caused by the Hepa B virus and can cause cirrhosis, liver cancer, liver failure and death. It is endemic in the Philippines and affects around 16% of Filipinos, based on estimates by the Hepatology  Society of the Philippines. Around 13 million Filipinos have been and will be discriminated from gainful work and employment due to Hepa B.  Liver cancer, on the other hand, is the 4th cancer site for both sexes in the country in 2005.
Hepa B is not air-borne. Transmission is only through mother-to-child, child-to-child, unsafe injections and transfusion, and sexual contact. The best protection against Hepa B is to get vaccinated now.
On day 2, we ran to fight violence against women and children (VAWC),  an advocacy close to my heart. According to a World Bank study, rape and domestic violence among women rated higher than cancer, motor vehicle accidents, war and malaria. At least 1 out of 3 women around the world has been beaten, coerced into sex, or otherwise abused in her lifetime.
In the Philippines, official stats show that 1 in 5 women ages 15-49 have experienced violence since age 15. Girl victims of abuse outnumber boys, 2 to 1. Among girls, the majority of victims belong to the age groups 10 to below 14 and 14 to below.
For the coming days, I'll share more about the causes we are running for everyday. Since Takbong Gabi started, we asked participants to post twitpics of their daily workouts. Here's a collage of the different photos from our runners.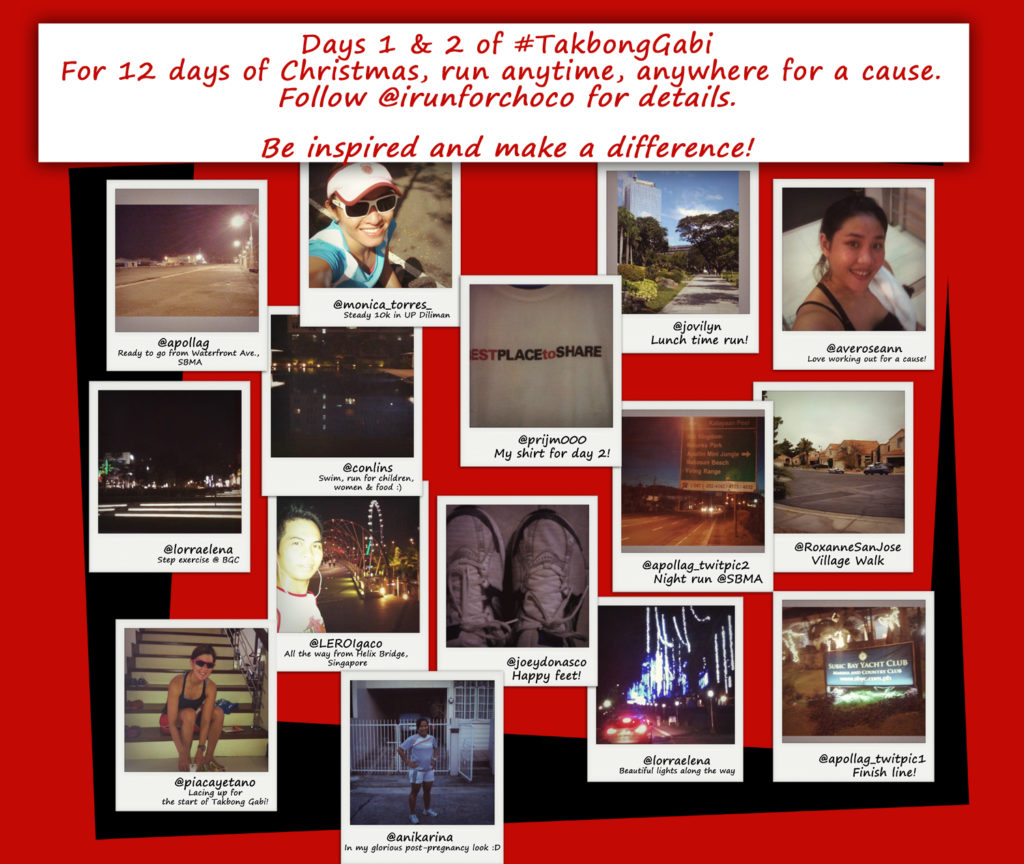 For those who want to join in on the fun, it's not too late. Just lace up, head out the door and start running. Count 12 days of Christmas running starting today.
For inspired running, follow @irunforchoco on Twitter. Happy Christmas running!