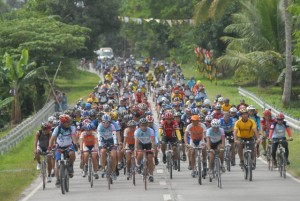 I love Davao!
Davao City is so progressive. The first city with a Women's Code. They also have an anti-smoking ordinance and a fire cracker ban. They are looking into establishing bike-lanes. And the most important part of this.. they implement their laws!
Meanwhile, Davao del Norte, is constructing a state-of-the-art sports complex in Tagum City. I saw the plans and was at the ground breaking on a previous visit. So very exciting. Ani del Leon, also conducted a Pinay in Action running clinic there. They are also pouring million of pesos into health care.
I was there for 3 days from January 29-31, 2009. My office and advocacy arm, Pinay in Action organized 25 seminars on health, breast feeding, immunization, women empowerment and running clinics for girls.
That was the tiring part and we couldn't have pulled it off without my hard working and dedicated staff, the support of the local government units, particularly Davao City, thru the office of Mayor Rody Duterte and Davao del Norte Province, thru Governor Dolfo del Rosario, the NGOs and private sector.
The fun part was the 101 km bike ride from Davao City to Tagum City (where the provincial government of Davao del Norte is). There were also a lot of people who lined the streets to greet us, and as always many expressed shock to see women bikers.
We passed thru the beautiful banana plantation that just stretched on and on. It was a very calming bike ride, away from the heavy traffic, save for the aerial spray of fertilizer which flew right above us! There is actually a Davao City Ordinance banning this, but the case is currently pending in the Court of Appeals.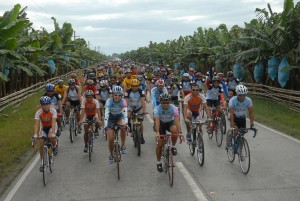 For part of the ride, I rode and chatted with Fr. Amado Picardal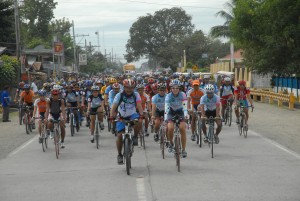 known as the Biking Priest. He bikes around the country for peace. His blog is full of interesting stories of his bike rides, his advocacies and his vocation as a priest and teacher.
An interesting side trip was the tour of the Nestle Experimental and Demo Farm for Coffee. I was told that it is the only experimental facility for coffee in the whole country!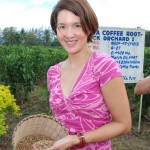 Farmers come from all over the country to learn about improving their coffee business. We used to be an exporter of coffee but today, we cannot even meet our local demand 🙁 Sadly, Vietnam's yield per hectare is much higher than ours, according to the National Coffee Development Board, which only tells us there is so much more to do.
Another stop I made was Barangay Sasa in Davao City where our triathlon national champ George Vilog hails from. As a young boy, he enjoyed riding his bmx bike and swimming in Coaco Beach. At 16, he competed in his first triathlon . In 2002, he became our national champion. Today, he is the silver medalist of the SEA games.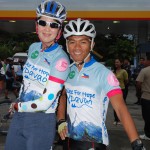 George is a shining example of a young boy with very little means, who found his way to the top thru sports. George is currently developing local talents in Davao.
And so ended my Davao trip. Had to rush home to my girls after the ride and shift to mommy mode.
n.b. Bike for Hope is a project of  The Companero Rene Cayetano foundation which was put up by my dad the former Senator Renato Cayetano years ago. When he pased away, we continued it in his memory. We are on our 8th leg having covered various provinces in Luzon Visayas and Mindanao. By God's grace, I hope to bring Bike for Hope to other parts of the country to continue spreading our advocacies on health, women empowerment, protection of the environment and youth development programs.