I write this blog on the occasion of Dr. Jose Rizal's  153rd birthday.  As a child, I  grew up reading comic books and short stories about his life and later on reading his two masterpieces Noli Me Tangare and El Filibusterismo. A few years ago I had a chance to visit Spain and do a Rizal tour, going to the places Rizal and other Filipino freedom fighters frequented. Last year, I joined our ambassador to Spain, Ambassador Carlos Salinas and our kababayans at the Rizal shrine in the Avenida de Filipinas to honor Rizal. Apparently there are monuments to Rizal all over the world including Italy, Belgium, France, Switzerland, China, Japan and in various parts of the United States.http://www.gmanetwork.com/news/story/262449/pinoyabroad/pinoyachievers/jose-rizal-a-revered-hero-abroad-not-just-phl
I am in awe of this man who spoke 23 languages, both foreign and local, at a time when there were no apps or tutorials you could download. He was a doctor, who specialized in opthalmology and devoted his practice to the poor, a poet and  novelist who dared to write about the inequities and social realities of his time, and above all a man who was willing to die for his country.
A man like this deserves our utmost respect. And yet, Dr. Jose Rizal and other heroes, namely Gat Andres Bonifacio, and Padres Gomez, Burgos, and Zamora, may  soon become names on an alcoholic beverage if Destileria Limtuaco, Inc. has its way.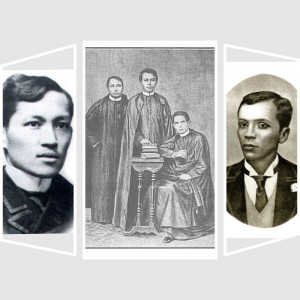 Similarly, Destileria Limtuaco also intends to appropriate  historic landmarks in the Philippines as names for their alcoholic beverages.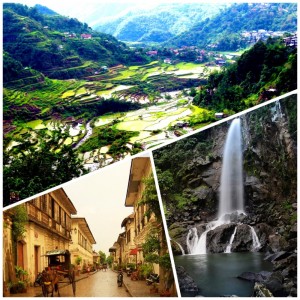 Laguna, Vigan and Banaue – images of famous Philippine locations that showcase the beauty, history, and culture of our country. Laguna is steep in history, the birthplace of Jose Rizal and now a tourist attraction known for the arts. Vigan is a World Heritage Site that can easily transport one back in time with its unique fusion of Asian design and construction and Spanish colonial architecture. Banaue is home to the Rice Terraces, another World Heritage Site.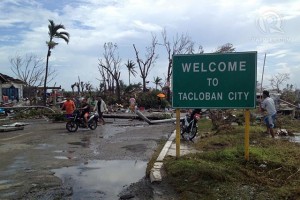 After the devastation wrought by typhoon Yolanda, Tacloban has become a rallying symbol to the world for hope, disaster recovery, relief cooperation, and Filipino resilience.
It boggles my mind that anyone would try to appropriate these names for commercial use but even worse is that its intended use is  for alcoholic beverages.
Is this allowed?
Most certainly not! R.A. 8293 or the Intellectual Property Code lays down stringent guidelines when registering a mark associated with names, national symbols and geographical areas:
Sec. 123.1.a: A mark cannot be registered if it consists of immoral, deceptive or scandalous matter, or MATTER WHICH MAY DISPARAGE OR FALSELY SUGGEST A CONNECTION WITH PERSONS, LIVING OR DEAD, INSTITUTIONS, beliefs, or NATIONAL SYMBOLS, OR BRING THEM INTO CONTEMPT OR DISREPUTE;

Sec. 123.1.g: A mark cannot be registered if it "is likely to mislead the public, particularly as to the nature, quality, characteristics or GEOGRAPHICAL ORIGIN of the goods or services"; and

Section 123.1.j: Also says a mark cannot be registered if it "consists exclusively of signs or indications that may serve in trade to designate the xxx GEOGRAPHIC ORIGIN xxx of the goods or rendering of the services, or other characteristics of the goods or services."  [all EMPHASIS ours]
On this same matter, the National Commission on Culture and the Arts (NCCA) issued the following statement:
"The Commission strongly opposes such applications. Historic persons, national heroes and heritage site are given the highest level of recognition and dignity by the states and imbued with public interest. Thus, their misappropriations for commercial enterprise and products, not only distract from the achievements of these persons or the importance of these sites, but sends the message that their names can be desacrilized, privately owned and used to enrich private interest. xxx"
The IPO is duty bound to deny the application for trademark registration based on the above provisions of the law. It shocks me that the IPO even allowed Destileria Limtuaco to publish its application for the use of "Intramuros."
Let us unite and join the National Commission on Culture and the Arts (NCCA) and the Intramuros Administration in opposing this irresponsible and callous move by Destileria Limtuaco.
We do not want to see our heroes faces and names on bottles of alcoholic drinks. I call on Destileria Limtuaco, Inc. to act as a responsible corporate entity and withdraw its applications. I call on the Intellectual Property Office to deny the applications outright.
We have heroes so that we are reminded of the freedoms we enjoy today, freedoms that our heroes fought for. Their lives speak to our youth about the value of hard work and sacrifice. It gives us a vision of what we can achieve. Likewise, our historic landmarks take us back in time and allow us to learn from our past through the lives of our ancestors that define who we are today.
Photo credits:
Laguna: Photograph by Jerwin Lim via https://www.flickr.com/photos/jerwin_lim/7271502834/
Vigan: Photo taken from virtualtourist.com
Banaue: Photo taken from http://www.banaue-tours.com/wp-content/uploads/2011/07/BAAUE-RICE-TERRACES1.jpg
Tacloban: Photo taken from wikipedia.org
Rizal: Photo taken from wikipedia.org
Bonifacio: Photo taken from malacanang.gov.ph
Gomburza: Photo taken from wikipedia.org