32 children out of every 1000 live births do not reach the age of 5. These are the children that we can save and the time to act is now.
On June 14 and 15, 2012 delegates from all over the world met in Washington DC to renew their commitment to ending preventable child deaths as part of the Millennium Development Goals.   I was one of those delegates from the Philippines, along with Dr Eric Tayag , Assistant Secretary of the Department of Health.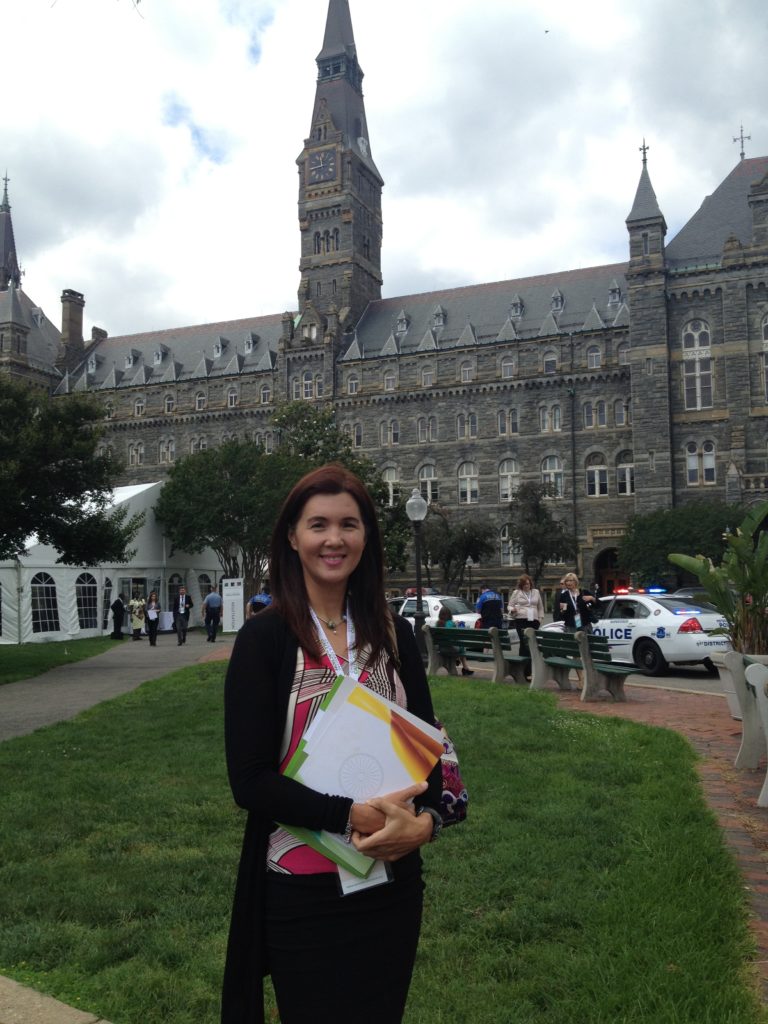 Child survival is  close to my heart not just because it is my work as the Chairperson of the Senate Committee on  Heath and  the Committee on Women, Youth and Family Relations.  As a mom, my third child, Gabriel,  died before reaching his 1st birthday. He had a chromosomal disorder knows as Trisomy 13 that caused many health complications, including a cleft lip and palate, a hole in his heart, difficulty in swallowing which required feeding through a tube and more.
But my son's condition was genetic, it was not preventable unlike the deaths of some 7 million children around the world. According to the World Health Organization, in the Philippines alone 32 children out of every 1000 live births do not reach the age of 5. These are the children that we can save and the time to act is now.
At the DC conference, it was emphasized that for the first time in history we have the tools to end preventable child deaths. By addressing child deaths we not only give children what they deserve – the right to celebrate their 5th birthday, we also   achieve  economic growth by releasing the burden of disease and the cost of treating illness.
The Global Roadmap to track progress and learn from different experiences is now in place. It proposes clear and achievable targets for governments, civil society, private sector partners and donors. It looks at the impact of the latest interventions and how the global community can accelerate progress.
Below are highlights of the Global Roadmap. I have emphasized those areas relevant to our country and indicated the status:
–       We must address the largest, most persistent cause of child mortality, that is: neonatal conditions which account for 40%  of child deaths.
It is worth noting that many of these causes of neonatal deaths are related to maternal health.
The DOH currently has a policy wherein it treats ever birth as an AT RISK birth, requiring births in health facilities in the presence of a certified child birth attendant who can provide emergency care and properly diagnose a critical condition that would require the presence of a specialist
–       Recognizing that there is a disproportionate burden of disease in certain sectors, especially the rural, poor and marginalized populations. Governments must reach out to address this.
Efforts are currently in place by the DOH to reach out to these marginalized sectors through the CCT.
In the RH bill we also have a provision recognizing the needs of geographically isolated areas and marginalized sectors.
–       Every country must target the causes and solutions that will have the greatest impact on accelerating progress against the rate of child death.
–       The need to invest in empowering women, educating girls, improving sanitation and hygiene and overcoming inequalities
Women need to have access to family planning information and services, health and nutrition information that will equipt them to plan their families and take better care of them.
Livelihood and educational opportunities should be available to women so they can improve their capacity to earn income
Hilary Clinton, the United States Secretary of State known for her advocacy for children even when she was First Lady delivered the Keynote Address. She says she considers herself lucky that she had her fifth birthday.  Knowing that being born in some countries and certain marginalized sectors greatly increases the chances of that child's early death, she said  a child's survival should not be based on the luck of a draw.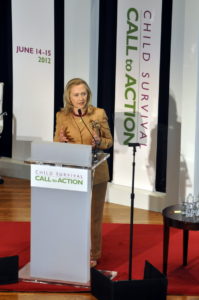 Ben Affleck the founder of the Congo Initiative also gave a talk on the efforts that they have taken along with the Congo government to address child death. In closing, he stated this matter was close to his heart because he has children of this vulnerable age. He said, he cannot imagine driving his wife to the hospital knowing that there was a big chance his child would not live.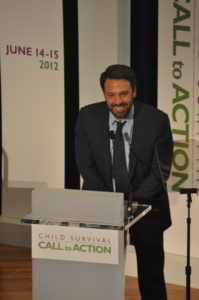 There were many more speakers throughout the two days who reported on the progress made in various countries and the setbacks encountered.
One speaker whose name I do not recall but whose words I will always remember said that she was dressed in her funeral attire. Why?  Because we must remember that mothers and children are still dying at an alarming rate. We must attend their funerals and then fight for the lives of the others so they don't die as well.
Armed with that thought, I am back in our beloved country and will continue to fight for these mothers and children.  Let us not live in denial. Remember that deaths are preventable and as policy makers, specialists, those in the medical profession, all of us should join hands in ending these unnecessary deaths.
Will soon blog about my battle with a bill pending in the lower house that seeks to undermine breastfeeding,  an essential tool in achieving  child nutrition and survival.