I could only stare at her beautiful face and be proud. My sweet baby girl, the  Prom Princess.
26 February 2011
Makati Shangri-La Hotel
This is a long over-due blog post. But better late than never.
My daughter Max, turned 16 early this year. She is a junior in De La Salle Zobel. She went to the Prom this year.
Yesterday, she was my adorable round crawling baby. Today, she is my Prom Princess.
She had a beautiful gown courtesy of her Uncle Lino.  She got made up by one of my favorite make-up artists, Precious. She  had a beautiful smile which was all hers.
Joining in on the family fun that night were friends of the Prom Princess.  There was Cam, one of her oldest friends and my inaanak. They were classmates in Casa in Maria Montessori back when Max was three and Cam was two. Then there  were Cam's two younger sisters who were Nadine's good friends, Amanda and Gabbie.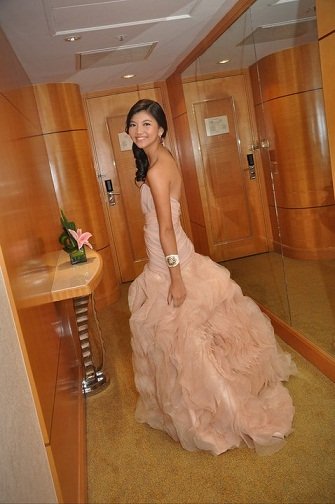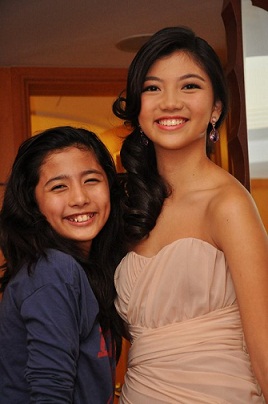 I was in Shangri-La hotel to see her off, along with tons of other parents who I guess, like me, could not stay away. After the kids went to the ballroom, I was hanging out the younger children. Then I decided to send Max a text asking how it was going. She texted me back and said, ''Mama, I won Heartthrob, Best Dressed and Couple of the Night."  Oh wow, I almost fell off my chair. My baby, won all these?  Naturally, I texted my whole family and my close friends and gloated with pride as only a mother could.
Later that night, I was having a late dinner in the same hotel with my friend, Deeda, who knew Max when she was a little baby in my arms. She  insisted on seeing her.  So I texted Max if she could come out of the ballroom.  It turned out that the prom was ending anyway. After some waiting she walked out with her date, holding all three awards, plus she was wearing a sash and tiara. She said to me, "Mama, I won prom princess too."
What could I say?  I could only stare at her beautiful face and be proud. My sweet baby girl, the  Prom Princess.